We are entering out third and last cycle of development for AceProject 4.6. So far, the agile method has been working well, and we think AceProject 4.6 will benefit greatly from shorter iterative development cycles.
Today, I want to show you three really nice improvements we've made to AceProject.
No need to close the task to save your changes
We were getting a lot of comments from our users about the inability to just Save a task in AceProject. Before 4.6, you need to navigate to another tab or close the task in order to save your changes. It was annoying and a waste of time.
Well, not anymore!  We've added a new option to the Update button: Update + Keep Open.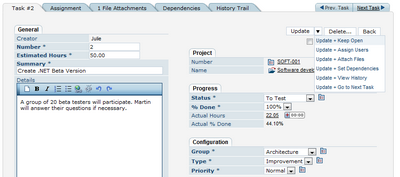 Documents go public
Another request we had from our user was about documents, that it woul be nice to permit some documents to be seen by people outside their AceProject team. We thought that was a great idea!
Now, AceProject task and project documents can be public. When a document is public, anyone who has the link to that document can see it, without the need to log in to AceProject. This is a great feature if you want to show your client a screen mock-up, for example.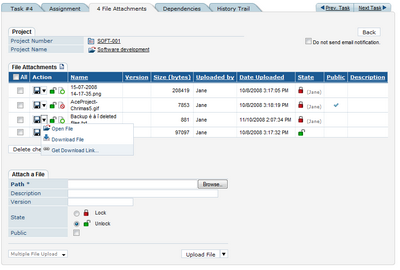 You'll know when you can start the work
With AceProject 4.6, when your tasks are controlled by a dependency link, AceProject will tell you when you can start working on them. You won't need to check if the predecessors are completed, AceProject will do it for you and send you an email like this:
Expect AceProject 4.6 for Christmas
We're starting out last development iteration today. Our goal is to make it available in December for online accounts, and early 2009 for the Source Code package.