AceProject 4.5 introduced more flexibility for our clients to brand their project management system to fit their corporate image. Before AceProject 4.5, our clients could upload their own logo to replace AceProject's, and put their own company name in place of AceProject in the page title.
Now, with AceProject's skinning feature, you can choose the color scheme to use in your account!
More than that: if you don't like our predefined skins (Forest, Vista, Cherry, Sunset, Flame, Chocolate, Navy Blue, Classic Blue), you can always change the colors one by one: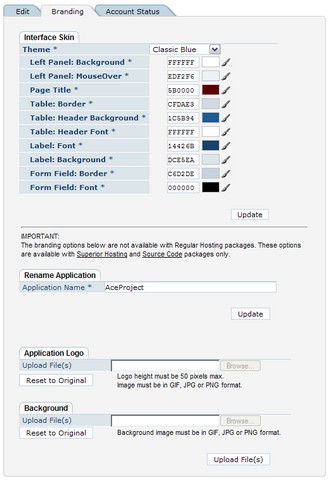 As our President, Daniel, explains it: "AceProject is often a tool that must integrate with our client's other tools and Intranet. With the skinning feature, AceProject can fit with the corporate image. On our end, the skinning feature closes the gap to customize AceProject's interface, since now all visual elements can be configured."
How skinning was implemented in AceProject
Michel, our graphic designer, explains: "We started with a comprehensive review of all the style sheets (CSS) and images used in AceProject. We had to make the shift from static visuals to dynamic ones. In fact, each tag now has a specific ASP tag with a color variable that changes automatically when the skin is modified. As for the images, I had to recreate a few hundred in seven color combinations, one for each new skin.
The technical challenge of becoming skin deep
For Michel, the challenge in implementing the skinning feature in AceProject 4.5 was the sheer number of images to process. It wasn't only about redoing every image for each skin, but also about deciding whether the image itself needed to be different from skin to skin. "In the end, it was not a simple job of doing everything seven times. We had to stop and think about each image and decide whether it would change with the skin," says Michel.
Taking pride in our skin
Michel is very proud that AceProject now offers the choice of changing the interface colors. As a graphic designer, it's important for him to have some control on the interface of the tools he uses.
Sylvain, at Customer Support, agrees: "This feature gives users more flexibility. We let them choose the colors THEY prefer instead of imposing the ones WE like. Whether you apply one of pre-defined themes or simply change the color of that one element that bothers you, it's up to you, you're the boss."