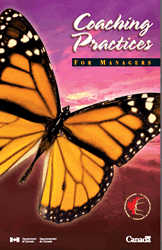 Project management is, in my opinion, much more about soft skills than processes and forms.
In this short ebook published by the government of Canada, we get valuable advice and techniques to improve our leadership.
Coaching Practices for Managers is a handbook to learn how to understand beyond what the person is really saying. It's built to make the reader think about their own acts and their own situation, so it makes it less theory and more practice.
For example, the book teaches us how to see the hidden request and commitments on complaints. If someone is complaining that it takes too long to receive approvals, we can see that this person is committed to delivering on time, and that she is looking for ways to speed up the approval process.
None of what's in Coaching Practices for Managers is rocket science. It's simple stuff that we can take away and use to improve how we manage our project teams.
Something I especially likes about the ebook: it can be turned into a half-day workshop. There are even instructions right in the ebook to help us organize it.
If you've been looking for a short read on leadership and coaching that you can put in practice easily, I highly recommend Coaching Practices for Managers