After months of hard work, a controlled beta test with the participation of 100+ of our users has concluded, and we are ready to unveil our latest major feature, recurring tasks. Until now, recurring tasks could only be simulated by copying the same task over and over, and adjusting dates manually. Our customers and ourselves grew tired of this, and are releasing today a real solution to this inconvenience.
Recurring tasks have been on our mind for years, and due to this feature's complexity, very few project management solutions offer this capability. We are extremely proud to add this feature to AceProject and, as a result, continue to remain competitive.
Basically, recurring tasks empower users to schedule the auto-generation of periodic tasks in a project. A recurrence pattern can be defined, and edited later if needed. A recurrence can occur on a daily, weekly, monthly or yearly basis. Many other options are available. Actually, we offer the same recurrence options as Google Calendar and Microsoft Outlook, and even more.
All tasks of a recurrence can be easily viewed in their associated project. Furthermore, a task can be set as recurring at any time.
Here's a screenshot of the "Edit Recurrence Information" page: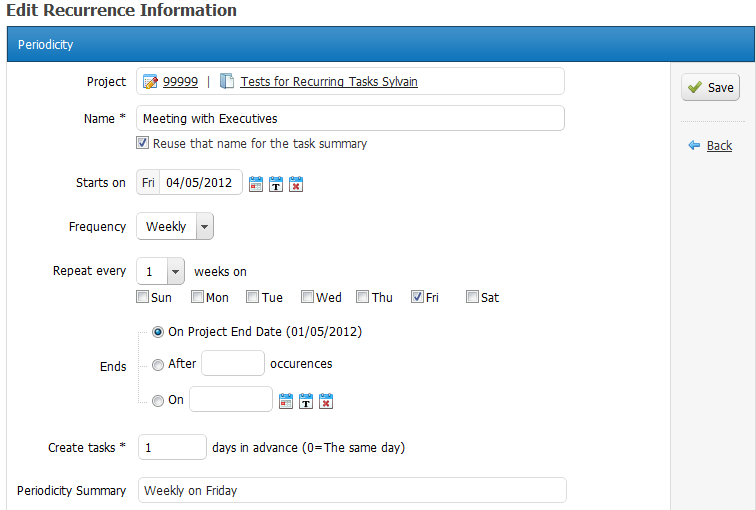 In order to avoid a free-for-all in accounts, recurring tasks can be created by project managers and administrators only.
The feature has been tested by 100+ beta users over the last couple of weeks, so don't worry, recurring tasks are stable.
The help page for recurring tasks can be found here. A webinar will be announced shortly. We'll keep you posted.
So, what do you think?