Already 2016! AceProject is soon to celebrate it's 15th Anniversary providing it's quality web-based application to companies worldwide. It is hard to believe that it has been that long, along with some original clients! Thank you for the continual support. This latest release corrects a few issues, of note, some bug fixes and enhancements for iOS9.x for the iPhone mobile users. Take a look below.
iOS9.x Mobile Update
A number of modifications have been ported to the iOS application and is available via the iTunes App store
Attach one or multiple documents from device from the photo gallery, Google Docs (Box, Drop Box etc depending on local installation) and also ability take add picture from the camera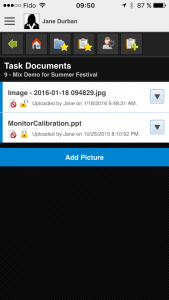 Adding documents can be done during the creation of a task
Scrolling is faster (more fluid)
Drop-down to change items is updated to iOS 9.x look and feel
Documents can now be downloaded and viewed quickly
Recent documents now listed at the top (conforms with web app)
Android Mobile Update – Coming soon
After the iOS update, we have launched into updating the Android app as well. A few issues such as not being able to add a photo, and certain image/doc previews have been raised by you. Yes, they will be available. No definitive timeframe has been set for the release, but we will say that it will be sooner than later (Q1 or Q2 the latest)
Updating the Payment System – Coming soon
We have been hard at work to replace our existing payment mechanism.  In the near future, all payment information and functionality will be available in app. No more calling us to change your credit card. We will miss you hearing your voices to give you instructions :).  It will be much easier and flexible for you for all billing needs. Roll-out will most likely be the end of Q2. But you never know, it could be faster. Stay tuned!
Time Management Video Available
For those that do not use AceProject to manage your time, take a look at this short video, and maybe you will change your mind?
Other Improvements
Task comment retrieval performance has been increased. May not be noticeable in smaller  task lists returns, but in some cases a marked speed increase is observed.
A bunch of bug fixes. You would think that after 15 years there would be no bugs !?!? But they just always seem to creep up on us 🙂
The complete list of changes and bug fixes may be seen in our Change History page.