Our development team has spent much of the last couple of months making code adjustments on the heels of the massive September 10th update.  However, we have managed to include many new great features during this time as well.
Create tasks by email
One enhancement that users may greatly appreciate is the ability to create a task directly from an email. There are many situations when this could be very useful. For example, a form from a webpage could collect information and send this information directly into AceProject as a Task. Tasks created within this project can be auto-assigned with email notifications sent to inform users of work that is to be done. The email address is unique for each project and can be found under Edit Project by clicking on the email icon at the top right. Simply copy this address and paste it into the To: section of an email and voilà, the subject becomes the Task Summary, the body becomes the Description, and any attached document gets added to the task as well. We have just begun to scratch the surface with this feature and look forward to your comments.

Quick upload within the edit task screen
Alert eyes will also have noticed the sudden appearance of a "Quick Upload" area in the main task edit screen. Not only will this means fewer clicks but it will ultimately allow users to associate a document/image with a comment.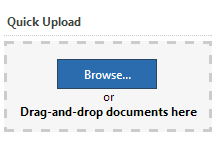 Here are other latest enhancements
Task Reminder settings added in Edit my Profile page. A user can now select whether he/she wants to see only assigned, only to-review or both categories of tasks. A link was added to the Task Reminder e-mail. Clicking on this link sends you to your "Edit my profile" page task reminder configuration area.
Mouseover in the column headers area of project and task lists brings up the Show/Hide Columns option.
Time Clock time item can now be copied as a "normal" time item from the weekly timesheet page.
Improved control over the "Summary" column width in task lists. Less horizontal space is wasted when few columns are displayed in "Custom View".
User workload reports now show cell background color in red when user is overallocated.
Export number of lines limit increased from 15,000 to 25,000.
"My Marked Tasks" and "My Marked Projects" pages now also display completed tasks by default.
When a user selects the "Copy a project from this template" option when creating a project, AceProject automatically sets the "Project Template" value of the new project to "No".
The complete list of changes and bug fixes may be seen in our Changes History page.