An update to all accounts was rolled out earlier today. This release should have been seamless to the majority of accounts. A few behind the scene changes as well as a few enhancements for you on this beautiful Autumn day…
Amazon Document Storage
First, the documents that you add to your account are now stored on Amazon (physical storage in USA facilities is only utilized).  This provides for even more reliability and security, as well to provide us more room to expand the amount of storage space per account…In other words, there is now no ceiling to the amount of extra storage space that can be added to your account if needed (Current limit was 70 Gb total)
Forward Email to Create Task
Create task via an email has been enhanced by supporting creation through email Forwarding now too! No more copying content, composing a new email…simply click on Forward and add the project email address that you wish the task to go into.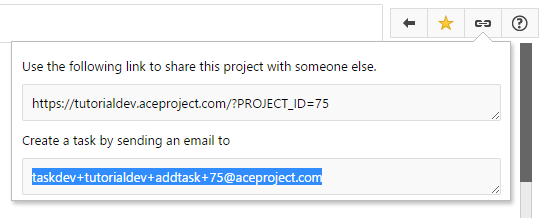 Here is how it works:
1. Go to the Edit Project page of the project that you wish to send an email into
2. Click on the "Link" icon
3. Copy the email address provided
4. Forward an existing email in your email program and paste this address
Attached documents are also added to the forwarded task. Inline images, however, are not.
A Note on API Usage
We have been fairly liberal with the API usage in the past, and a growing number of accounts are now using it in a whole number of interesting ways from automation of reporting, to connecting external applications and business processes.  However, a number of accounts are taxing the system sometimes overwhelmingly.  We have begun to monitor more closely the usage and do not be surprised if in the near future your are contacted.  A number of suggestions to optimize your API calls will be happily provided.
The complete list of changes and bug fixes may be seen in our Changes History page.
Social Media
Did you know that AceProject is present on several Social Networks? We actually post news, updates and other useful information on the 4 main social networks.
To stay up to date with everything about AceProject, simply follow us on any social network below: