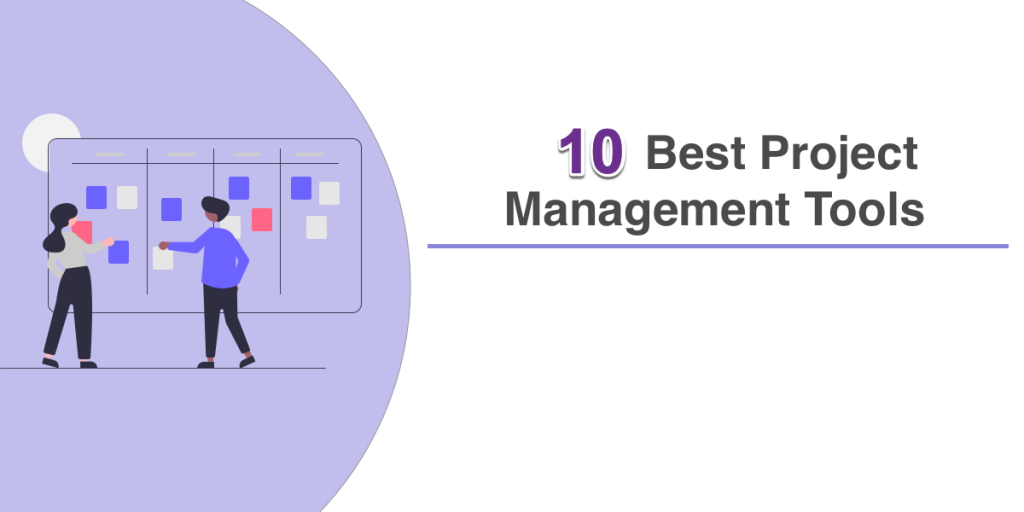 Project management software facilitates team collaboration and enables organizations to prioritize their most important work. It's an essential tool for most companies, but with so many options available, it can be challenging to determine which is suitable for your organization. Our guide can help you narrow your choices and select the best software.
Previously, only dedicated project managers were responsible for overseeing projects, and they used specialized tools that required significant training and expertise. However, modern project management software has evolved to meet the needs of a more dynamic and collaborative workforce. Almost everyone is expected to manage their projects today, and legacy tools are no longer practical.
The Top 10 Best Project Management Software & Tools
With so many project management software options available today, selecting the right one can be overwhelming. To assist you in making the best choice, we have compiled a list of the leading products in the industry and the types of businesses that are most likely to benefit from each one. By comparing these software products, you can understand how project management software can enhance and streamline your work in various ways.
1. AceProject: Stay on top of your projects

AceProject is an exceptional project management tool that enhances productivity and helps organizations achieve better outcomes. AceProject's user-friendly and intuitive interface provides a superior user experience, allowing users to create projects from templates, track progress with Gantt charts, record time in timesheets, manage documents, and quickly generate reports.
2. Monday.com: Most suitable for small-scale businesses

Monday provides a range of applications that simplify implementation, making it easy to start quickly. This makes it suitable for small businesses new to project management software. However, as your workloads, company size, or team collaborations increase, you may eventually reach the limits of what is feasible with this platform.
3. Wrike: Ideal for managing clients effectively

Wrike offers stackable storage and security in an easy-to-use format so clients and internal teams can safely access information. This can be helpful when working with external partners, such as clients, and managing work as a company.
4. Asana: Most suitable for large-scale companies

Asana offers a complete work management solution that goes beyond the features of traditional project management software to meet the ever-changing demands of enterprise companies. In addition to helping you manage your tasks, Asana connects your company's work to its highest-level objectives and business strategy.
5. Trello: Ideal for essential project management needs

Trello, owned by Atlassian, is a project management software that uses a Kanban board-style interface, making it ideal for simple project management. In Trello, project tasks are organized by nesting them under boards labeled with an overarching theme. For instance, you can create boards such as "Not Started," "In Progress," and "Complete." This setup makes it easy to track project progress from board to board, which is particularly useful when managing small projects that require a straightforward tool.
6. Smartsheet: Ideal for those who enjoy working with spreadsheets

Smartsheet is an upgraded spreadsheet version offering additional capabilities beyond traditional spreadsheets. For companies that have been using spreadsheets for project management, Smartsheet's system can feel intuitive, especially for tasks like time tracking with timesheets.
7. Jira: Explicitly designed for managing projects using Agile methodology

Jira is a software development tool tailored to the Agile methodology, owned by Atlassian. It is frequently used for bug tracking and Scrum process projects, making it an excellent choice for teams that work with Agile methodology.
8. Notion:  Ideal for individuals who prioritize note-taking
Notion is a sophisticated tool that enables users to create and store dynamic documents, spreadsheets, and notes. It benefits individuals or companies seeking an organized space for their thoughts and ideas. However, the collaborative features within the tool itself may feel limited in terms of working with others.
9. Airtable: Ideal for individuals who prefer to create their own solution

Airtable offers a highly flexible no- and low-code database that allows users to create a customized project management system or other bespoke applications. For individuals who want to manage the backend development of their project management software, Airtable provides an excellent option.
10. Workfront: Tailored to meet the needs of marketing teams exclusively

Workfront (owned by Adobe), initially created for marketers, is a project management software that has expanded its capabilities to cater to all teams. However, users may find collaborating with teams outside this department challenging since it is primarily targeted at marketing departments.
What is Project Management Software?
Project management software is a tool that facilitates the organization, tracking, and execution of work by teams. At its core, it provides an interactive workspace for coordinating work, collaborating, and communicating with others. However, the best project management software goes beyond that and connects your most advanced workflows across your organization, helping you achieve your most ambitious goals.
This is a comprehensive category, ranging from essential digital checklists to full-featured work management platforms. The type of project management software most suitable for your organization depends on its size, requirements, overall objectives, and the way you plan to use the tool.
Why use Project Management Software?
In today's world, almost everyone is involved in project management, but they often lack the tools to do so effectively. As a result, teams frequently resort to using spreadsheets, which help organize work but do not display real-time updates. Spreadsheets are highly manual and may hinder cross-functional collaboration, lacking the advanced features of project management software.
That is why project management software is essential in modern working environments. It serves as the vital link between work, teams, stakeholders, goals, and everything in between, offering numerous benefits.
Features to look for in your Project Management Tool
Are you ready to purchase a project management system? While the features and capabilities of each platform may differ, we recommend prioritizing a system with these essential features:
Collaboration tools that enable seamless teamwork across teams, departments, and the entire organization, including file sharing, resource management, and project tracking.
A platform that supports portfolio management with the ability to link goals to actionable tasks, ensuring that all work is connected and aligned.
A mobile application that allows you to manage projects receive timely notifications, and approve work while on the go.
Easy-to-access project and reporting dashboards.
Multiple project view options, including Gantt charts, Kanban boards, lists, and calendars, support your organization's project types and operations.
Enhanced project scheduling that enables you to set due dates, create milestones, and quickly track time to keep everything on schedule.
Project management app integrations that meet your specific business needs.
Automation and dependencies that update you and stakeholders in real-time, keeping everyone informed of project progress.
Conclusion
Project management software can help you increase focus and productivity by working on the right tasks without duplicating work or wasting time searching for materials.
Moreover, project management software can help reduce busywork by connecting every task to broader company goals, increasing employees' motivation to produce high-quality work. You can also streamline your tech stack by using dynamic project management software to connect all your tools, such as Slack communications, Dropbox files, and Google Drive attachments, on a single platform.
Project management software also functions as a record system for all your projects and related tasks, making it easier for stakeholders and teams to access and utilize information. Additionally, project management software promotes cross-functional collaboration by bringing together work, goals, and people from various projects, teams, and departments.
Lastly, storing your work safely in the cloud through project management software ensures you stay organized and maintain your privacy, reducing the risk of losing important work or data.
You may also consider other alternatives: Top 10 Best Project Management Software & Tools.